Bramble Hill Hotel
New Forest Bramshaw
Tel: 023 8081 3165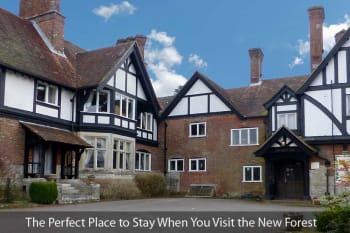 The Bramble Hill Hotel has 8 country style ensuite bedrooms offering Bed and Breakfast in the heart of the New Forest. The hotel has retained its charm and history to offer a very comfortable stay with a homely feel. The leisure center offers a swimming pool, sauna and jacuzzi with a well equipped gym, which is included in your stay. Easy access to all the attractions, restaurants and places in the New Forest make this the perfect place to enjoy this wonderful area.
Facilities
swimming pool
jacuzzi
gym
Breakfast Room
Children Welcome
Garden For Residents' Use
Internet Access
Log Fire
Lounge
Luggage Storage
Payphones
Sauna
Television Lounge
Policies
Check In: Between 13:00 and 21:30
Check Out: Between 11:00 and 11:00
Wi-fi: Wireless internet is available and is free of charge.
Smoking: There is no smoking permitted anywhere within the property.
Parking: Parking for all guests is available on site and is free of charge.


Children: Children of all ages are welcome.
Pets: Pets are allowed and can stay free of charge.
Groups: All groups are accepted.
Average
4.6
out of 5
62 reviews
100% recommend
Reviews
24th September 2021:

Bramble Hill Hotel is a rare jewel, set in a magical woodland. Quirky, exotic, utterly unique, a time capsule curated by a gentle and hospitable soul. Come with an open heart, and this beautiful place will reflect what you bring to it. Namaste, Alan! (Visitors should be aware that the hotel's website is somewhat historic - the cream teas are no longer available but the full English breakfast is pukka. The leisure facilities are on a request-only basis so don't expect to walk into a buzzing gym; the beauty of this place is in the woods, the garden, and the owner. And if you don't bring/have your own dog, Blue and Indy are more than happy to provide ear-scratching facilities...)
Tips:
We had one meal locally - The Green Dragon, excellent food, characterful interior, and plenty of outside space under a vast awning if it's a warm evening.
Would Recommend: Yes
8th September 2021:

Lovely lodge accommodation right in the heart of the forest atop Bramble Hill. A real get away from it all location as so peaceful and tranquil and right in the heart of Nature itself. Alan is a very kind host and is there if you need him. Not the Ritz but simple, clean and ticks all the boxes in terms of authentic lodge New Forest accommodation.
Tips:
2 great posh gastro pubs just down the hill and only 15 mins from Paultons Park and other highlights of the New Forest.
Would Recommend: Yes
13th July 2021:

The location in the new forest is amazing and so picturesque. The hotel has an excellent pool, jacuzzi and gym. The hotel is a beautiful old building. Inside it is quirky but clean. The apartment we stayed in is huge with 2 double bedrooms and an extra single bed Kitchen and outside space. Great value for money for 3 of us sharing.
Tips:
If you are looking for 5 star contemporary chic this hotel is not for u but if u are looking for great value for money in an excellent location with great facilities and like quirky then definitely recommend. Also if u are staying in the apartment bring pound coins as it has an electric meter that requires them but for 2 quid we had electricity for the while weekend.
Would Recommend: Yes
29th June 2021:

Had a lovely weekend and its a good place to go for peace and quiet and to enjoy the forest and wild life.
Tips:
Go for a walk through the forest and to the Lamb pub. The food is good and the staff were friendly.
Would Recommend: Yes
20th September 2019:

This is THE place if the nature, history and humanity are your thing. The hotel is located in a beautiful site, where you can actually feel and see the harmony of the nature and human civilisation. Allen, the capable manager, is the soul of the hotel, and made the place special. It's more like staying at grandpa's house: you are well looked after yet have all the freedom you want. Our shy 21-month old loved Allen; she asked him for a hug when we said goodbye after two nights of stay. Thank you Allen. We have been thinking of you and will certainly be seeing you again. Greetings to Indie, Blue and Smokey!
Would Recommend: Yes
16th September 2019:

Staff friendly and very helpful. Lovely cooked breakfast.
Tips:
Ring for directions, as the stat nav takes you somewhere else, so would be difficult to find in the dark. Open top tours of the New Forest were a great way to see everything, and the commentary filled in bits of history.
Would Recommend: Yes
18th July 2018:

Alan was the perfect host, a lovely guy with a lot on his plate running the whole thing by himself. The lodge itself is a gorgeous old country house with an interior to suit. The breakfast was delicious and the fact that we could bring our dog with us was the icing on the cake.
Tips:
Lyndhurst is 15 mins away in the car but there are 2 lovely pubs maybe 10 mins walk away. The grounds were 15 acres so plenty of ambling to be done if wanted
Would Recommend: Yes
16th July 2018:

The hotel is situated in a beautiful location. Rooms, décor is old fashioned, however this suits the hotel and part of the appeal. If your looking for a hotel with all the mod cons, this is not for you. If your looking for quirky hotel with character, you will enjoy your stay.
Would Recommend: Yes
5th July 2018:

Would Recommend: Yes
20th June 2018:

We came as a large group (7 adults, 3 children) and all of us loved our weekend away at Bramble Hill Hotel. We felt really looked after and everything we needed was provided for us which made the weekend really special. We definitely will return.
Tips:
Our group (7 adults and 3 children) of mixed riding ability went horse riding in the New Forest at the Brockenhurst Riding Stables. Brilliant experience with wonderful horses, led by careful and caring instructors.
Would Recommend: Yes
20th June 2018:

Where do I start , if you are looking for a unique stay in the most beautiful location then this is the place , the long drive way takes you to the most stunning Manor House I've been to , the owner Alan has done an incredible job in keeping as much charactor to the house as possible the rooms are stunning and you feel like your back in time, this place is great for family's also with acres of land and a stunning spa facilities and great fun for all ages . We are coming back to bring our parents next time , this really is a once in a lifetime experience and the negative comments people have put are just stupid yes it's not spotless but that adds charactor and feel to this outstanding property,
Tips:
There's lots to do obviously all of the lovely walks , At around 8.30 at the bottom of the drive tons of animals walk back home via Alan's property so it really is a picture there is also deer that congregate in his field which again is stunning to see , there are 2 local pubs which are 3 minutes driving away and after a long day you got the spa to relax in , this is undoubtably the perfect place to come and stay whilst visiting the newforest and The location is just perfect , Can't wait to come back next month Bradley and Rosie. Brighton
Would Recommend: Yes
8th June 2018:

The only reason the cleanliness is marked down is because it is a dusty place due to age and there is a fair bit of updating that could be done (I was in room 6, 4 poster bed) to improve cleanliness. But, where it could be clean, it really was! Pool and gym fantastic size. Alan the owner is very friendly and will happily sit with you for a drink on the lawn! Love how quiet it is, only an odd wild horse I heard or fluttering bat. Direct into the new forest, great access and great pubs nearby, within 1 mile I would say.
Tips:
The Green Dragon great food and beer. I didn't go anywhere else as was working the next day but I am confident that all of the restaurants and pubs around there would be of good standard. Only breakfast served at the hotel so you will need to go out for your evening meals.
Would Recommend: Yes
3rd June 2018:

Lovely hotel, very clean and tidy. Staff were extremely polite and helpful.
Would Recommend: Yes
3rd June 2018:

we loved our short stay at this grand old hotel. The place is bursting with character. Please remember it is a B and B and not a hotel. Don't expect room service etc. The owner Alan is a kind old fellow who made us feel very welcome even with our dog. The room was clean and comfortable and the area feels remote and serene.
Tips:
WiFi is available in the lobby but phone signal is virtually non existent. There are some great pubs nearby which serve good food.
Would Recommend: Yes
29th May 2018:

Excellent location for a peaceful weekend break. Although parts of the hotel were rather dated we thought it was brilliant location for exploring the beautiful New Forest.
Would Recommend: Yes
22nd May 2018:

We had a lovely, lovely time. Beautiful lawns and rhododendrons. Fantastic to just walk out into the forest. Our room was lovely and clean and comfortable beds. Communal areas are a bit dusty and cobwebs. Great place if you have dogs. Very likeable owner with sense of humour. If you want a modern place all matchy, then this is not for you. The jacuzzi was great but unfortunately pool not open. Very quiet at night. A bit creepy taking dogs out in the middle of the night like a scooby do mystery. You're in the middle of nowhere. Lyndhurst is 5/6 miles away.
Would Recommend: Yes
4th April 2018:

Going to re-visit in the summer to use the pool. Amazing host made us feel at home and relaxed;would have liked to have spent more time in the bar.
Would Recommend: Yes
19th February 2018:

Whilst many has quite a bit of negative to say about this place I can only say that for us personally we think it was the most amazing experience. Alan is a gentleman and a perfect host. We felt so at home there that we did not want to leave. A real gem if you love architecture and a step into how it was done in the past. If you into modern then I'm sure a Holiday Inn would suite you better but for those who appreciate this sort off thing you will have to look very far to find anything better. Great value for money. Can't wait to return in the summer.
Tips:
Exceptional for people who want to have a horse weekend with your own horses to enjoy a quitter part of the forest. Very little road work needed as you can go straight into the forest from the hotel premises.
Would Recommend: Yes
27th October 2017:

A lovely, character hotel, full of charm, set in stunning grounds. It made such a nice change to stay somewhere that wasn't a chain and that actually had its own identity. The hotel was clean, comfortable and served a cooked breakfast, for a reasonable extra fee. Alan , who owns the hotel, is lovely. Despite running the hotel, almost single handed, he always found time to help with any questions etc and was always available should you need anything Ignore the rude reviews you may read. If you're looking for a hotel set in stunning grounds, that's kept all its original charm, then look no further.... We will definitely be returning to see Alan and his pets! Thank you Alan for making us so welcome! Erin misses everything too! :) Best wishes Lorraine, Richard, Erin (and Charlie.. woof) xx
Tips:
Lots of nice places/pubs to visit. Again, Alan is happy to advise or google and you'll see plenty..
Would Recommend: Yes
10th September 2017:

If you're the type of person that likes posh hotel chains then this place isn't for you. If you're looking for something more homely and relaxed then it's perfect. The swimming pool is amazing and has a great assortment of water toys for the children. Alan was very accommodating to our needs, opening breakfast early for our hungry 2 year old and recommending some lovely local pubs for us to go to dinner. We found our room comfortable and clean and I was very grateful for the complementary shampoo when I discovered I'd packed two bottles of conditioner by mistake! Since we got home my six year old has raved about it so much we're now planning another trip back with nanny and grandad as well!
Tips:
If you are staying with kids I would highly recommend the Sir Walter Tyrrell pub for food. The service was brilliant, food was lovely and there is a huge play area outside. If you need to know how to get there from the hotel just ask Alan to draw you a map!
Would Recommend: Yes
3rd September 2017:

We had the most amazing time at Bramble hill for 3 nights. We had read some negative reviews previously, however, we feel these were completely unjustified. Bramble hill is a 400 year old building with Victorian interior and decor. It's beautiful and a gem hiding in the wilderness of the New Forest. The rooms are clean and the breakfast basic but delicious. The whole establishment is run by Alan single handily , who is without doubt the friendliest most hospitable hotel owner I have met. Nothing was too much trouble and he went out of his way to make myself, my husband and son feel completely at home. And we did. The hotel felt more like staying at a relatives house rather than an impersonal hotel. The hotel has top class leisure facilities and we used the very clean and almost empty pool and jacuzzi everyday. Bramble hill is a wonder. If you are looking for a modern hotel with mod cons in a busy area, you will be disappointed. But if you are looking for a beautifully well looked after period property in the middle of the new forest with peace and quiet with a family friend feel then Bramble Hill is where you need to be. The only problem we had was we came without transport which can be a problem as the hotel is quite deep within the Forest, but Alan was more than happy to help out. This place is a gem, that we will no doubt be visiting again.
Tips:
Walking in the forest. Paultons theme park, for families and children. The Green Dragon pub in Bramshaw for dinner. You must bring a car, taxis are hard to come by and expensive.
Would Recommend: Yes
31st August 2017:

A unique Edwardian country house hotel, eccentric, comfortable, homely but NOT remotely like a hotel chain. So enjoy the difference. Beautiful period rooms and best cooked breakfast ever. Welcomes dogs and horses and is perfect for exploring the forest.
Tips:
Good local pubs, fabulous walking/cycling/horse riding from the back gate straight onto the forest. Close to major roads for longer sight seeing trips
Would Recommend: Yes
27th August 2017:

Would Recommend: Yes
24th August 2017:

Lovely pleasant stay. Had everything I needed plus a swimming pool. Would definitely recommend to a friend and stay again.
Would Recommend: Yes
23rd August 2017:

Allan is a great host, nothing was too much trouble. We put 4 for the facilities only because evening meals are not available, but there are plenty of places in the vicinity. We and our dog were made very welcome, there are lovely grounds to walk around and after dark you can watch the bats and listen to owls. There is also a lovely leisure suite, pool etc. The building is so unique, absolutely fascinating to look around.
Tips:
The Green Dragon and The Three Bells, serve good food. The location is excellent, nothing is very far away. We would stay here again.
Would Recommend: Yes
23rd July 2017:

Amazing owner and location. The hotel I great had everything we needed for are stay. The pool and gym were top of the range. Breakfast was great value as well.
Would Recommend: Yes
20th July 2017:

Would Recommend: Yes
14th July 2017:

Would Recommend: Yes
11th July 2017:

Quiet location in the New Forrest. Incredible old hotel slightly passed its best but full of character and furniture! Delightful host.
Tips:
Excellent local pubs in a very special part of the country.
Would Recommend: Yes
3rd July 2017:

Lovely hotel in superb location with an excellent swimming pool and gym. And Alan was a wonderful host. We can't wait to return. Only slight downside was no food being available in the evening. When we returned to the hotel after a hot afternoon's cycling, we were very hungry so we would have loved to have eaten at the hotel that evening without getting in the car and driving to a nearby pub. But recommendations by Alan for local eating places were excellent.
Would Recommend: Yes
3rd July 2017:

Just our style, old fashioned but very, very, homely. We both enjoyed our stay and Alan could not do enough to make certain it was a good stay. A fascinating hotel to explore, the bar and breakfast room were superb.
Tips:
Lovely, in the New Forest, with walks and plenty of parking in all areas of the forest. Great for photo opportunities.
Would Recommend: Yes
27th June 2017:

Great location and Alan the owner was great
Would Recommend: Yes
19th June 2017:

A great, place to stay and a first class service from the staff. Best English breakfast in the New Forest.
Tips:
A must dine at the Lamb Inn
Would Recommend: Yes
5th June 2017:

Would Recommend: Yes
31st October 2016:

An extremely pleasant and comfortable stay. Alan was very friendly and helpful. We thoroughly enjoyed our stay and the use of the facilities.
Tips:
Although there is no evening restaurant in the hotel, there are many excellent pubs near by.
Would Recommend: Yes
30th October 2016:

Lovely hotel with helpful friendly staff
Tips:
Situated in the new forest within walking distance of great sites and views
Would Recommend: Yes
13th September 2016:

Would Recommend: Yes
30th August 2016:

Lovely old building with plenty of character, but could do with a bit of maintenance, eg painting window frames. Excellent modern fitness centre. Delicious breakfast, although it would be nice to have a choice of yoghurt as well as cereals. Owner could not have been more helpful.
Tips:
The Green Dragon pub is in walking distance (less than 2 miles) and is very welcoming. Good food and friendly staff. The New Forest bus tour is a good way to get around but unfortunately buses are not frequent enough and end quite early.
Would Recommend: Yes
29th August 2016:

Homey and very enjoyable place in the middle of the forest. Leisure fcilities are brilliant, and very friendly and thoughtful staff. Perfect place to live a fairytale stay in a charming and unique hotel. Highly recommended.
Tips:
Don't forget to try one of the hotel's delicious cream teas.
Would Recommend: Yes
11th August 2016:

In lovely quiet setting and with excellent gym and indoor pool which those staying for B&B can use free of charge. A charming property although a little faded. We returned for our second visit this summer and were made very welcome.
Tips:
The green dragon near by provides good food.
Would Recommend: Yes
7th August 2016:

A most quirky Hotel (B&B) Be prepared to be transported to a bygone era in both décor, fixtures and fittings. A must go-as establishments like this are fast disappearing in this modern age. The location and the service by Alan cannot be faulted and we thoroughly enjoyed the step back in time. The bathroom suite with the roll top bath was just a joy to use. Leisure facilities were great and we intend to join at a later date. Just not the cleanest of places but we knew that!
Tips:
Red Rover is the local 2 for £9.99 and the meals and service are superb. For a more special menu, the Rockingham Arms is a must go. The Royal Oak in Fritham just up the road with Eyeworth pond down the hill is a must visit for walkers and Ale lovers.
Would Recommend: Yes
21st June 2016:

Alan the owner was very hospitable and helpful with suggesting walks and places to eat
Tips:
Can recommend the White Hart at Cadnam and the Green Dragon pubs for food
Would Recommend: Yes
13th June 2016:

We love this hotel . It is very authentic , like a little time warp . About as far from corporate as you can get and for me that is a very good thing .
Tips:
We would have liked to have had time for a proper walk around the lovely grounds but we will have to do that another time .
Would Recommend: Yes
27th May 2016:

Would Recommend: Yes
1st May 2016:

Quiet location, Alan the owner very friendly and helpful,
Tips:
Keep an eye out for deer in the garden
Would Recommend: Yes
16th April 2016:

excellent a pleasure to be there
Would Recommend: Yes
4th April 2016:

Great pool!
Would Recommend: Yes
30th October 2015:

We had an excellent stay at Bramble Hill. Alan made us very welcome. The setting is fantastic. Will definitely be returning!!
Would Recommend: Yes
2nd October 2015:

A wonderful hotel
Would Recommend: Yes
21st September 2015:

very friendly owner, perfekt view from our room, lots of animals around the house
Tips:
have a one pound coin handy as deposit for the lockers at the swimming pool, fitness area
Would Recommend: Yes
14th September 2015:

I came with my partner for a weekend away in the New Forest. We loved how quiet it was and we both had the best night sleep for a long time! The staff were amazing and the gentlemen at reception I believe to be the owner was a wonderful chap. We loved playing snooker in the Billiards room and they had a leisure centre with an amazing Jacuzzi and pool and my partner was impressed with the state of the art gym. We woke in the morning to a peaceful silence as the Hotel is quite out in the sticks, which was great for us. Although the ponies all around make it quite surreal. We did venture out in a taxi to Lyndhurst for dinner which was just 15 min away. All in all a fabulous stay and we will definitely go back again.
Tips:
Fantastic walks Great leisure centre, gym, pool, jacuzzi Lyndhurst village with pubs/restaurants just 15 min drive
Would Recommend: Yes
14th September 2015:

Lovely stay, the grounds are beautiful and Alan was really helpful and made is a lovely cream tea when we arrived. The leisure facilities were fantastic, I lovely pool and well equipped gym. Will definitely be going back
Tips:
We arrived at about 3 so we're a bit too late to reserve a table at the hotel restaurant but ate at the Bell Inn which was really nice and just spent the rest of our time exploring the grounds of the hotel and surrounding area
Would Recommend: Yes
13th September 2015:

Beautiful old manor house with great charm. The pool and fitness room are spectacular.
Tips:
Green Dragon is doggy friendly and good food.
Would Recommend: Yes
8th September 2015:

Amazing location and building. Not for you if you want a bland corporate hotel. We loved the old furniture and rooms with character and history. Allan the owner is very hospitable and welcoming. Beautiful grounds. Pool sauna and bubble are a bonus not to be missed Delicious fresh breakfast Recommended
Tips:
We ate in green dragon for reasonable local pub grub and Alberi in brockenhurst for excellent Italian Took a bag of carrots to feed the animals - drive slowly they really do seem to come from nowhere! Recommend this area for leisurely break
Would Recommend: Yes
17th August 2015:

Would Recommend: Yes
5th August 2015:

The location is superb, as is the leisure suite. The hotel is a little tired but Alan is extremely friendly and helpful, even offering to look after our two dogs so that we could have a swim at the same time.
Would Recommend: Yes
3rd August 2015:

Charming place to stay in New Forest, in a lovely house full of history. Leisure center is very modern and nice. The breakfast is delicious, in the pure english tradition. A great stay
Tips:
The new forest and his beautiful trees The indian restaurant in Lyndehurst is very good. Romsay Abbay is a beautiful church, nearby.
Would Recommend: Yes
19th July 2015:

A beautiful old hotel style bed and breakfast with amazing leisure centre. Alan was a fantastic host and breakfast was delicious. My only issue was the bed needs updating in the family room but everything else was perfect and very peaceful.
Tips:
We had dinner at the White Hart pub both nights as the food was delicious and great outdoor playground for kids.
Would Recommend: Yes
2nd July 2015:

Lovely hotel with lots of character. The swimming pool and gym facilities were wonderful, it appears these have been newly built or refurbished.
Tips:
I would recommend afternoon tea and cake at the hotel in the tranquil garden! Staff at the hotel suggested a cycling route so remember to ask for their recommendations!
Would Recommend: Yes
29th June 2015:

Relaxing, beautiful, quaint, quirky, fabulousness - an absolute gem. Alan's breakfasts wow.
Tips:
The Lamb Inn, welcoming, high standard of food.
Would Recommend: Yes
23rd May 2015:

Excellent friendly service from Alan.
Would Recommend: Yes
18th May 2015:

A brilliant hotel, lovely atmostphere and great staff. Will be going again soon.
Would Recommend: Yes
.